Dating Software Features
SkaDate is a unique dating site software product.
Out of the box features for your online dating business
Out of the box it includes essential features useful for instant engagement of users and website monetization. At the same time SkaDate is the easiest software to expand with a myriad of native and third-party plugins.
Desktop Website Features
When accessed from desktop/laptop browsers, your site may offer all kinds of features necessary for online dating and beyond. Non-essential features are optional, so make your own unique combination!
VIDEO CHAT


Let your site members make voice and video calls to each other using WebRTC technology (no Flash required). Easily add monetization through user roles and memberships. Requires SSL certificate (included with SkaDate hosting). Free servers are available (included with SkaDate hosting, or can be obtained with third-parties), however, paid servers are necessary for continuous stable operation.
MATCHMAKING


Matching users using profile info and sending new matches
by email. One of the most targeted and effective monetization
techniques for online dating sites.
MEMBERSHIP LEVEL MANAGEMENT


You can have any variations of premium (paid) membership on your site. Whatever makes sense for your niche and business model.
CREDIT SYSTEM


You can have any variations of premium (paid) membership on your site. Whatever makes sense for your niche and business model.
PAYMENT PROVIDERS*


Use PayPal and CCBill (included), or Stripe, and others (available separately) — the most popular Internet payment gateways to accept credit cards and mobile payments from users.
* Please make sure your site concept and niche does not fall under Prohibited Activities of a chosen Payment Gateway.
FACEBOOK CONNECT


Want more signups? Let people use their existing Facebook accounts for login and pull their profile info. A dramatic difference for signup and profile completion rates.
ONE-ON-ONE CHAT


Let paid subscribers easily communicate on your site. A person who received a message is more likely to subscribe to read it.
VIRTUAL GIFTS


Send lady a flower, anyone? A proven gamification tactic to maximize subscription or virtual goods revenue.
ADVERTISEMENT


Easily organize advertisement banner rotation on your website. Works with all ad systems, e.g. Google Adsense.
BUILT-IN SEO


Limited marketing budget? SkaDate X will make sure you get as much free traffic as possible from search engines. Capitalize on every incoming link, every registered profile!
ADVANCED PHOTO VIEW/UPLOAD


Beautiful Pinterest-style album view, instant browsing, full-size slide-show – everything to minimize the page load time and let your users enjoy more photos during one seat. You do care about conversions, right?
TEMPLATE CUSTOMIZATION


You have a wide choice of templates to choose from, and you can easily customize the one you like. With SkaDate making your site unique is straightforward.
CONTENT MODERATION


Moderators, flagging/reporting content, mandatory user profile approval mode – everything to let you guide your community more efficiently.
REAL-TIME NOTIFICATIONS


A message, a wink, a virtual gift – if something happens, SkaDate will let them know ASAP. Real-time interactivity is priceless and should be harnessed for users to enjoy. So they return for more.
GOOGLE MAPS FOR LOCATION


Your users can enter arbitrary location data, like town, district, or zip code, and it will be translated into Google Maps data points. Google Maps* provides unmatched accuracy and always up-to-date location data.
*Extensive/advanced Google Maps usage requires additional fees for operation.
USER SEARCH WITH PROXIMITY


Search for users: quick and extended mode. Proximity search, e.g.50 miles from Los Angeles. Results in photo gallery, profile details, map view.
PROFILE COVER GALLERY


Beautiful profile photo album display, a-la Instagram. Make people care about their profile look to improve the attractiveness of your online dating profiles.
DRAG'N'DROP PROFILE BUILDER


Remember the times when making profiles look great was hard? We don't either. With SkaDate it's always been a piece of cake.
Mobile Website Features
Whenever users access your website from a phone browser like Mobile Safari or Mobile Chrome they will be equipped with the essential features to connect faster and easier:
USER PROFILE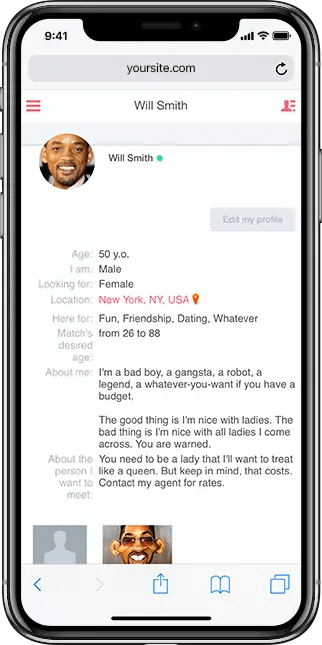 Striking and creative presentation for site members to boost their profile visibility.
PROFILE PHOTOS

Give your site members an option to browse through other users' photos, sorting them by latest uploads or rating.
PHOTO VIEW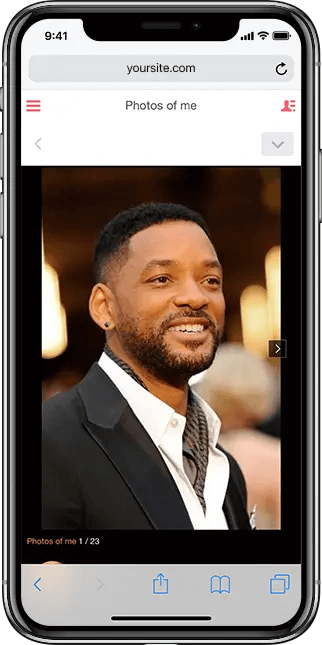 With Photo View your members can scroll through photos of other users in their albums.
LOCATION-BASED USER SEARCH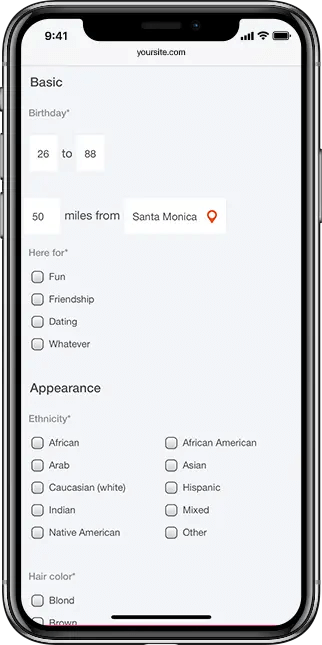 Help your site members in finding the perfect match via narrowing search by any chosen location.
INTEGRATED GOOGLE MAPS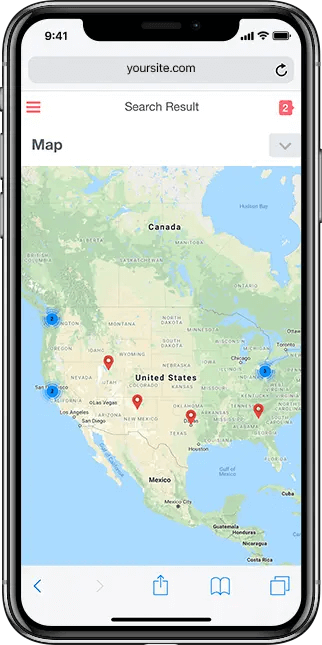 Your site members may see their search results right on the map; also integrated with User Profiles. (Extensive usage requires additional fees).
PROFILE LIST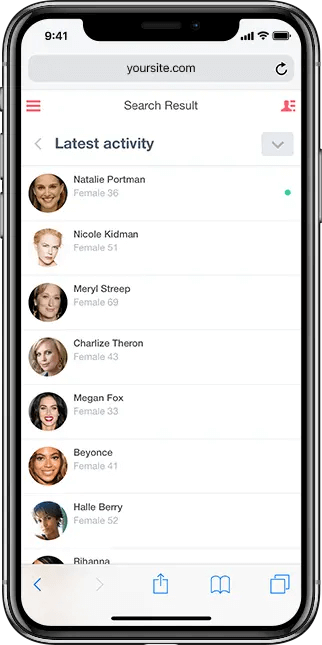 Let your members see who's online, and sort available profiles by join date or latest activity.
USER MATCHES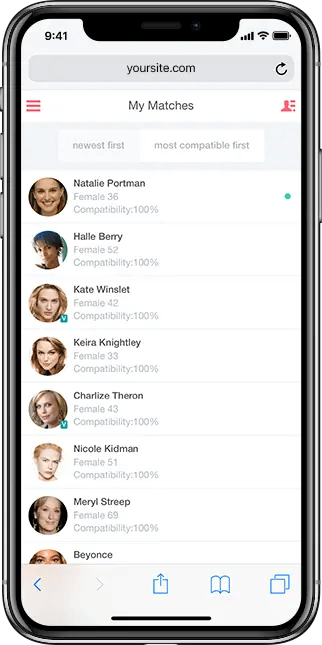 Built-in matching system will show members' compatibility. Sortable by best match or newest first.
WINKS AND BOOKMARKS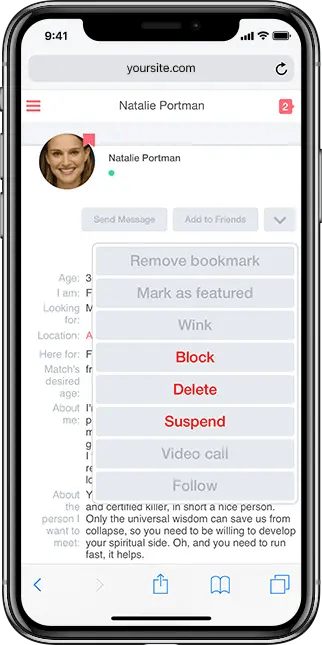 Winks are great to break the ice for shy users! Bookmarks allow to save favorite profiles for later interaction.
REAL-TIME NOTIFICATIONS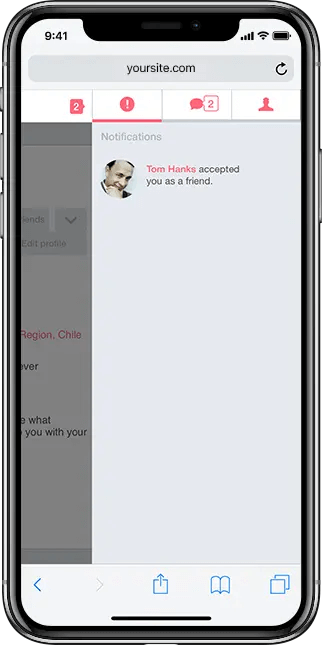 Be sure you site members stay on top of things with real time site activity notifications.
CREDITS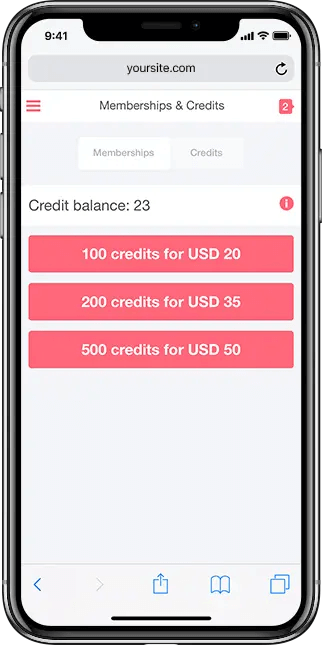 Sell virtual credits to be spent on the website for using various features. Completely customizable!
MEMBERSHIPS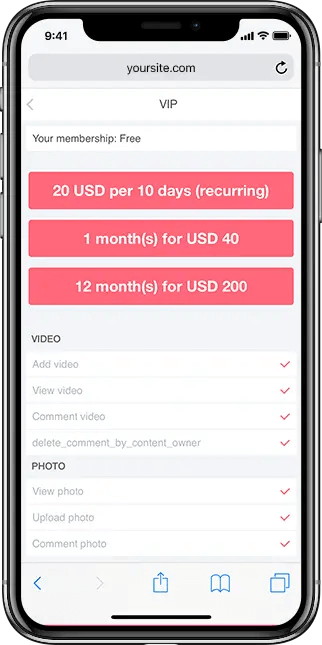 Offer premium memberships
for access to extra features.
PAYMENT PROVIDERS*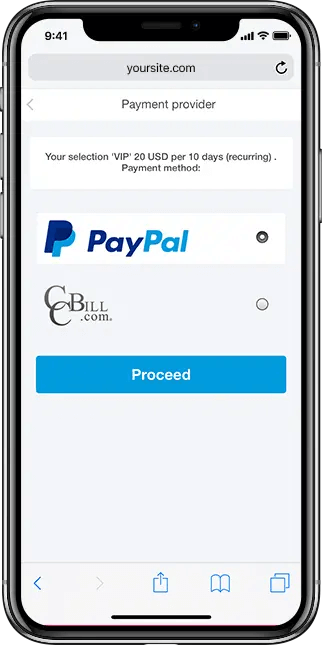 Accept credit card and mobile payments through PayPal and others.
* Please make sure your site concept and niche does not fall under Prohibited Activities of a chosen Payment Gateway.
MESSAGES

Messages allow site members to strike a conversation with other users and chat with them in real time.
PHOTO UPLOAD

Uploading photos in bulk and easily arranging them into albums — your users gonna love it!
Also included in the package
Do we have to stop right there? Of course not! Keep choosing what you may need!
Facebook-style newsfeed
Profile comment wall
Personal preferences
Tags
Blocklist
Photo/video/blog ratings
Mass-mailing
Google Analytics
Friends
Events
Private photo albums
Social media integration
WYSIWYG editor
Who viewed my profile
Winks
Bookmarks
Hotlist
Dependent profile questions
User privacy
Blogs
Groups
Cloudflare integration
Custom content pages
Multi-language support
Menu & page management
Captcha
Hash&salt security
Splash screen management
Contact form
Forums
User polls
Revenue tracking
Moderators
Feature access management
User photo moderation
Site maintenance mode
Image slideshow
Import contacts
Video sharing
-
Third Party Translations*
*SkaDate fully supports English, with additional languages available as free third party language packs (provided as is at Oxwall).


















With SkaDate your business is best equipped for success!