SKADATE PRICING
Pick a Plan For your Dating Business
Our Packages
It starts with a purchase of one of the SkaDate packages, each being sufficient to launch a dating business. See what's best for you:
---
Compare SkaDate Packages
Trying to decide what's best for you? Here's a simple breakdown of SkaDate Packages. They are important to understand so you know what fits your needs best.
---
A few quick facts:
There's only one product, SkaDate (sometimes supplemented with mobile apps). But since we are selling solutions for launching businesses (not just some "software"), SkaDate product is a part of differing SkaDate packages;
Depending on your business idea you might need one of our packages. Those will always include SkaDate website product and SkaDate mobile apps in certain configurations + necessary services;
SkaDate packages are intended for different purposes so it's easy to understand what you need by reviewing our options and/or talking to us.
---
Basic Package - $999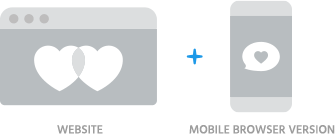 It offers
dating site + services
necessary to launch and run a
dating site
business. Also includes SkaDate Mobile Browser Version for basic functionality.
Choose it when you only need a supported dating website without self-branded mobile apps and without mobile app monetization.
---
---
Complete Package - $1,699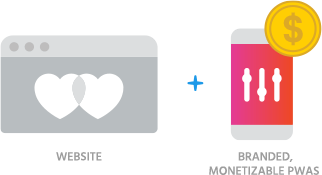 Offers both a
dating website
and
branded PWA
solution in one package at a discounted price. Makes it possible to customize and monetize mobile apps, distributable directly from your website (no app store submit option).
Choose it when you are serious about mobile and want customizable Tinder-like mobile apps under your business name and logo
---
---
Premium Package - $2,999


This is similar to the
Complete Package
, but may also include optional personal project management service for large-scale project (depending on the final project estimate) and custom development. Also, if your project entails custom and unique mobile apps, we will help you with the submission to app stores. This is the smartest way to buy custom development from us.
Choose it when you want a heavily modified website/app project.
---
Bespoke Solution - $11,000+



Full-scale long-term custom development;
Free choice to use SkaDate as your base platform, or start from sсratch;
Development team for hire (Project Manager, Senior Software Developer, Designer, QA Specialist);
Best for launching projects with technology budgets of over $11,000+.
---
-Ready to get started?
Get in touch with our team today to learn more about how SkaDate can take your business to the next level.